Hello everyone. Here is my card for the new challenge at Polkadoodles crafting challenge blog. With a lot of green because soon it's St Patrick's day !
I used Knight & Dragon - Little Dudes digi stamp, one of the digi sentiment and two of the three beautiful digi papers included with the stamp.
I colored it with Twinmarkers and gel pens and I mounted my image on an easel card base. I added an embossed grey paper and made myself the banner "Lucas" (he's my nephew) with craft paper and an acrylic marker.
Bonjour à tous. Voici ma carte pour le nouveau challenge de Polkadoodles crafting challenge blog . Avec beaucoup de vert car c'est bientôt la St Patrick !
J'ai utilisé le tampon, un des sentiment et deux des jolis papiers digitaux, offerts avec le tampon digital Knight & Dragon - Little Dudes digi stamp.
Je l'ai colorisé avec mes Twinmarkers et des stylos gels et j'ai monté mon image sur une base de carte "chevalet". J'y ai ajouté du papier gris embossé et j'ai fabriqué moi-même la bannière "Lucas" (mon neveu) avec du papier craft et un marqueur acrylique.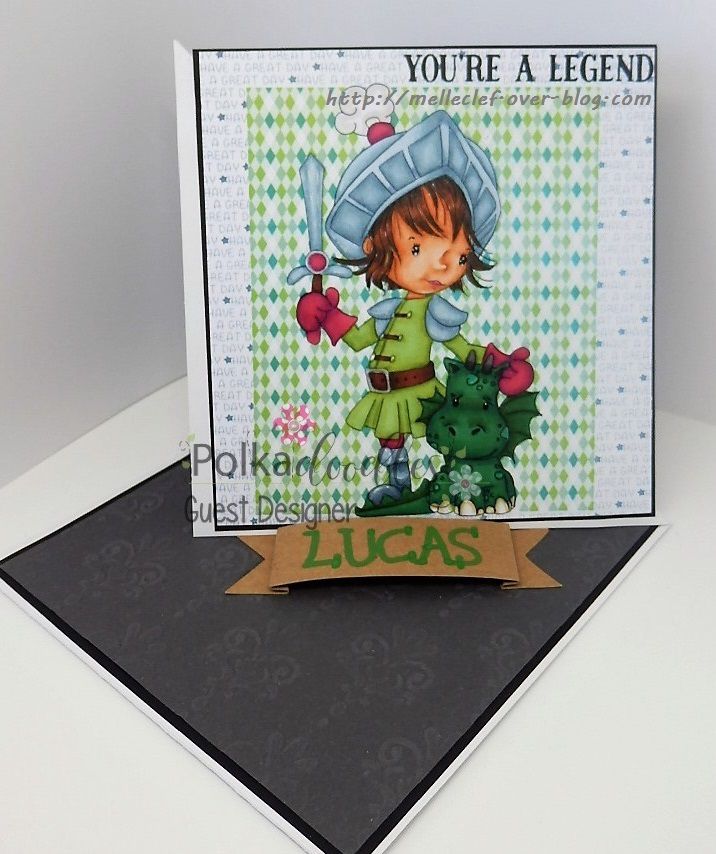 I would like to participate to the following challenges : (je souhaite participer aux challenges suivants : )
I was lucky and I am the random winner of Lemon Shortbread #88 challenge. Thank you very much !