Hello. Today there is a new challenge at Color Crazy craft challenge blog. Here is the card I've made with the digistamp Calla Lilies by our sponsor Fred she said.
I made the background directly on my craft colour cardbase with a few stamps, white Versamagic, Brown Versafine et golden embossing powder. I printed my Lilies and coloured them with Twinmarkers, and sticked them to my card base. Calla Lilies digi is very easy to colour and I love the effect of these beautiful flowers on my card.
Bonjour. Aujourd'hui il y a un nouveau challenge chez Color Crazy craft challenge blog. Voici une carte que j'ai faite avec le digistamp Calla Lilies de notre sponsor Fred she said.
J'ai fait mon fond de carte directement sur ma base de couleur craft avec quelques tampons, de la Versamagic blanche, de la Versafine marron et de la poudre à embosser doré. J'ai imprimé mes fleurs de Lis, je les ai coloriées avec mes Twinmarkers, puis je les ai fixées à ma base de carte. Calla Lilies est une image très facile à colorier et pourtant elle a un effet géniale pour une carte.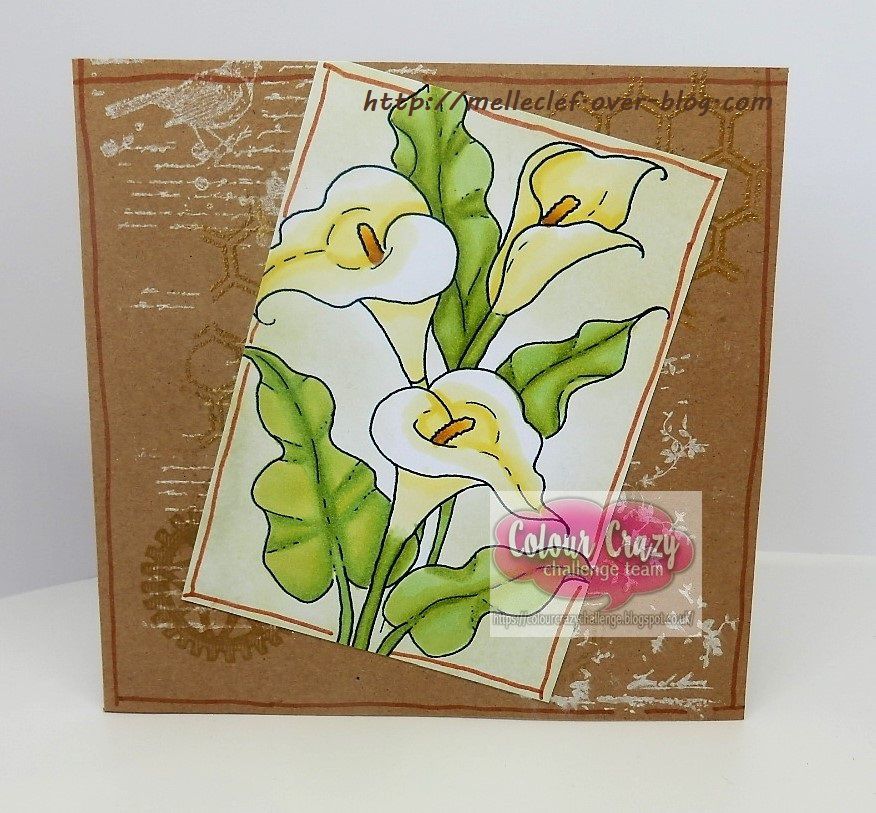 I would like to participate to the following challenges : (je souhaite participer aux challenges suivants : )
Thank you so much to Jo's Scrap Shack, it's a great honor to be in the top 3 of challenge #276.